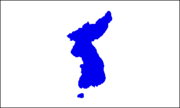 Korea is a civilization and geographical area situated on the Korean Peninsula in East Asia, bordering China to the northwest and Russia to the northeast, with Japan situated to the southeast across the Korea Strait. It is currently divided into two political entities: South Korea, a capitalist liberal democracy, and North Korea, a totalitarian communist dictatorship.
One of the world's oldest civilizations, Korea has a recorded history dating back approximately 3,000 to 5,000 years. In the 4th century BC, the adoption of the Chinese writing system, Buddhism, and other aspects of culture brought from ancient China had a profound effect on its society. Koreans later passed on these, as well as their own advances, to Japan, helping that country make its first steps towards civilization.
The emergence of the kingdom Gojoseon in 2333 BC marks the beginning of Korean civilization, according to the Dangun legend. After unification of the Three Kingdoms into Unified Silla in 676, Korea was ruled by a single government and maintained political and cultural independence until the Mongol invasions of the 13th century. Since this period, Korea developed a close relationship with China, the region's dominant power, while preserving its own distinct cultural identity.
At one point, Koreans invented the world's first metal movable type, self-striking clock, rain gauge, and ironclad warship. Korean civilization reached its height in the 15th century, during the reign of Sejong the Great (creation of the national alphabet). Korea then fell into stagnation and isolation in the latter part of the Joseon Dynasty and, by the late 19th century, became the object of imperial designs by the imperial powers.
In 1910, Korea was annexed by Japan and remained a colony until the end of World War II. In 1945, American and Soviet troops occupied the country and helped establish governments sympathetic to their respective ideologies, leading to its current division. Shortly after both sides pulled out their forces, North Korea invaded South Korea starting the Korean War (1950-1953) and a U.S.-led coalition of United Nations forces were sent to aid the South. After a truce was signed with the North, a demilitarized zone was established and has separated the two countries from conflict since.
From the 1960s, South Korea experienced rapid industrialization under a series of military dictatorships. Massive demonstrations against the government during the 1980s eventually led to democratization and free elections just prior to the hosting of the 1988 Summer Olympics. In 1996, the country joined the OECD, or "rich nations" club. Today, South Korea is the 10th largest economy in the world.
After the collapse of the Soviet Union in 1991, North Korea's economy suffered greatly. Despite a famine that killed millions, the regime has refused to liberalize its economy and open its doors to free trade. Instead, it has relied on the use of the threat of nuclear weapons.
Korea is often called the "Land of the Morning Calm" for its serene sunrises and peaceful mornings.